ABOUT
Where Good Beer Meets Good Design.
About Acos Fillers…
Acos Fillers was founded by Tony Costello in 2013. Tony has spent most of his working life as a packaging development engineer and specifically in the controlled atmosphere packaging area.
The Acos Filler system germinated from a low sugar carbonated tea project. During which he could not find a good entry level filling and capping machine. At the same time, as an avid craft beer drinker, he saw the global growth in the craft and micro brewing industry, so he decided to produce filling and capping machines to satisfy this demand, assist the growth of this industry and that would give both the serious home brewer and small brewing companies a cost effective and technically superior filling system. To achieve this Tony knew that he needed to take into account the susceptibility of beer to oxygen, as low oxygen in the bottle means a better beer taste and longer product shelf life. During the machine development phase, various patents were also obtained on the basis of the novel and filling system which has been developed and incorporated.
We now believe our filling and capping machines (AF250 and AF500 models) are amongst the best in the world for filling carbonated beverages. The Acos Fillers have the ability to positively change the economics of a craft or micro brewery or Brewpub, enable them to be more cost competitive whilst providing the best tasting bottled beer to the end customer.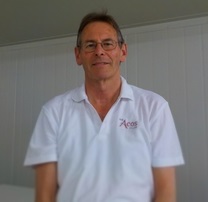 Tony Costello